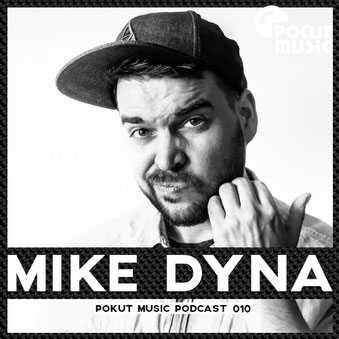 BLAKKA BLAKKA, it's time for a new Podcast you little Motherlover. 15. März 2018 aka Mitte des Monats, heute kommt der neue Mix von Mike Dyna aus Köln!!!
Ein DJ mit laaaaanger, aufregender Karriere - als Turntablist mischte er in den 2000ern die ein oder andere Battle derbe auf. Mit seiner damaligen Crew, Noisy Stylus, ergatterte er unter anderem den Europameister-, oder auch den Vize-Weltmeistertitel 2004.
Weiter ging es mit der Bassliebe-Possy - Dubstep, Drum and Bass bis hin zu UK Bass standen hier auf der Agenda, sie prägten die Bassmusik-Szene in und um Köln deutlich - legendäre Nächte mit Acts aus der ganzen Welt sorgten für reichlich furore. Inzwischen ist Dyna wieder bei seinen Roots angelangt und sorgt regelmäßig im Veedle Club in Köln, mit seiner Partyreihe "Dope Like That" für HipHop Vibes von A bis Z.
In seinem Podcast macht er einen Schwenk durch diverse Styles: Rap, Trap, UK oder Future Bass... ein bisschen deep, ein bisschen poppy, ein bisschen rough - just dope like that! Am besten ihr macht euch ein eigenes Bild und checkt den Mix auf unserer Soundcloud-, Heatthis.at- oder auch Youtube-Page. Selbstverständlich steht er zum free Download zur Verfügung - nicht das ihr bald Best-of-Schlager-Radio im Auto hören müsst und vor der Crew uncool rüber kommt.
Pokut Music Podcast 010 // Mike Dyna

Migos & Lil Uzi Vert - Stranger Bad & Boujee Things
Mura Masa - All Around the World (feat. Desiigner)
Mestizo - Far Away (feat. Kalenna)
Full Crate - Vogue (feat. Trinidad James & Bryn Christopher)
Hayiti - Zeitboy (feat. Joey Bargeld)
Lil Pump - Gucci Gang (RAFIK x DEAN FLIP)
Lil Pump - Back (feat. Lil Yachty)
A$AP Ferg - East Coast
Big Shaq - Man's Not Hot
Lupe Fiasco - Jump
Trettmann - Nur noch einen (feat. Joey Bargeld & Haiyti)
Nimo - Wie Falco (feat. Yung Hurn & Ufo361)
Rico - Junkie (feat. Bausa)
Jorja Smith - On My Mind (Preditah VIP Mix)
DROELOE - Make My Day
Keys N Krates - Flute Loop
Lil Uzi Vert - XO-TOUR-Lif3-DJ-Mustard-Remix
KRANE - Spells (feat. Blake Skowron)
Lil Pump x Carnage - i SHYNE
Lil Jon - Alive (Dirty)
Kendrick Lamar - Humble. - Skrillex Remix
Childish Gambino - Redbone (DJ Mustard Remix)
Lotto Boyzz - No Don
Riton - Money (feat. Kah-Lo, Mr Eazi, Davido & Sweetie Irie) [Toddla T Remix]
Full Crate & The Partysquad - HOT
Trettmann - Dumplin & Callaloo
...natürlich solltet ihr auch die bisherigen Podcast-Mixe von unseren Künstlern anhören, sehr viele verschiedene Schwerpunkte sind hier vertreten. Jeden Monat erscheint ein neuer Beitrag, nächsten Monat ist Zebsta aus Leipzig am Start, ihr dürft auf jeden Fall gespannt sein!